JAPANESE | CHINESE | ENGLISH





Home Page | News | Mycoplasma Infection Diseases | Healthcare Organizations | Link | Company
 
 
 
 
 
 
 
The research and development of treatments such as revolutionary diagnostic products and the vaccines is promoted based on pioneering finding concerning the mycoplasma lipid-antigen.

Further, the companion diagnostic product is applicable to drug design, and becomes an important key of the morbidity elucidation of mycoplasma infection, and curative medicine development, such as a vaccine, an antibody drug, and an immune therapy.

It aims at the establishment of the overall diagnosis-treatment system, which adjusted to the whole image of the mycoplasma infectious disease clarified by a revolutionary diagnostic system.

The novel diagnostic method can measure IgM, IgG, and IgA, separately. Conventional diagnostic product has a limit, the present condition is being able to omit diagnostic-prevention-medical treatment appropriately.

M Bio Technology Inc. introduces the microorganism lipid-antigen analysis technology into clinical diagnosis-treatment, and is challenging overcoming the disease to which the lipid-antigen is related.

The exploitation technology obtained for the lipid-antigen research is assumed to be a platform technology that has generality to be applied for other microorganisms (microorganism LIPIDOMICS).

Basic research about physiology activities, such as the immune activity of a mycoplasma lipid antigen, is also advanced, and the knowledge about the application to a vaccine has been accumulated. We focused on the small antigenic molecules of mycoplasmas, then, found the lipid-antigens, determined the structures of them, and finally succeeded chemical synthesis.

The diagnosis and drug design against the pathogenic microbe using the synthesized lipid antigen are world's first platform technology.

The patents of mycoplasma vaccine have been registered worldwide. The patents of mycoplasma lipid antigens have been approved by Japan, US, etc.. The immune activity and the knowledge about the application to a vaccine has been accumulated.

The advanced medicine using a new diagnostic product has been proposed since April, 2012. It becomes possible to discover mycoplasma infection at an early stage, and to treat a cause of the disease curatively with this medical treatment world wide.

An open innovation and the global expansion are assumed to be a schematic plan, and technological development with the university and research laboratories and the tie-up and joint developments of the diagnostic product enterprise and the medicine manufacture enterprise are promoted.

 
 
 
 
 
 
 
 
 
 
 
 
 
 
 
 
 
 
 
 
Antigens: Lipids Kazuhiro Matsuda, Encyclopedia of Life Sciences(eLS)

eLS is published by John Wiley and Sons Ltd.
*eLS (formerly known as the Encyclopedia of Life Sciences) is a monthly-updating reference work containing over 4800 specially commissioned, peer-reviewed and citable articles written by leaders in the field.
 
 
---

Home Page | News | Mycoplasma Infection Diseases | Healthcare Organizations | Link | Company

Copyright© 2013 M Bio Technology Inc. All Rights Reserved.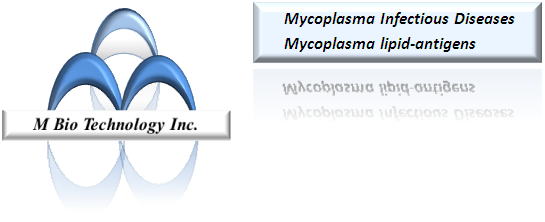 |